| | |
| --- | --- |
| Deborah's Story | |
Meeting the Needs of Clients and the Legal Profession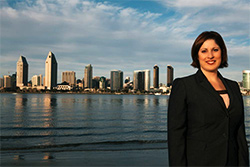 Just five years after graduating from California Western School of Law, alumna Deborah S. Dixon '07 was named partner at Wingert Grebing, the prestigious local firm where she began as a student law clerk in 2006. In the legal community, the swift timeline of Dixon's ascent to partnership is remarkable - epitomizing the law school's goal of preparing its students for practice from day one.
California Western's emphasis on both theory and practice - with a strong focus on applied legal training - provides benefits to attorneys and the legal community, as well as clients.
"California Western's practical approach to legal education was a key factor in my preparation for the 'real world' post-graduation," Dixon explains. "Working in litigation, I am required to digest facts quickly, research efficiently, and analyze the law effectively without the luxury of unlimited time. Not only did California Western train me to think like a lawyer, but to practice like one as well."
Designated as one of the San Diego Daily Transcript's Young Attorneys in 2012, Dixon is fast-becoming a superstar in the legal profession, having already developed a diverse practice involving professional liability defense, corporate litigation, and employment law.
"In addition to law school curricula that traditionally consists of reading, researching, and writing - California Western helped me refine my oral advocacy skills, professionalism, ethics, and time management," says Dixon, attributes that she claims were imperative in her ability to handle complex litigation earlier in her career.
Dixon's enthusiastic nature, unwavering work ethic, and dedication to the pursuit of justice extends beyond the practice of law, as she remains actively involved at California Western. She is a member of the Alumni Association Board of Directors, serves as an adjunct professor of trial skills during the Moot Court Honors Board summer program, and coaches interscholastic trial competitors as well as travelling teams of fellow Distinguished Advocates that represent the law school in competitions throughout the nation.
While at California Western, my participation on trial and appellate teams was invaluable," Dixon explains. "Both of these experiences gave me the confidence to present complex arguments to the courts in a more self-assured manner. It is my distinct pleasure to give back to the program as a trial team coordinator and competition judge."
Dixon is also active in her community, as secretary of the San Diego Defense Lawyers Association Executive Board, a Board of Directors of Lawyers Club of San Diego, a barrister with the American Inns of Court, Welsh Chapter, and a board member of the California Western School of Law Alumni Board.