| | |
| --- | --- |
| Ready for Practice | |
California Western's curriculum and innovative programs helps students prepare to find successful outcomes for their clients
If lawyers aren't born, but made, what is the best way to ensure law school education produces effective professionals? This question motivates California Western School of Law to develop innovative programs designed to train highly ethical, skilled, and client-centered attorneys.
"As a law school, we recognize our obligation is to train students to be lawyers. To do this effectively, we need to incorporate lawyering skills throughout the curriculum," says William Aceves, Associate Dean for Academic Affairs and Professor of Law. "It can't just happen in one class or in one semester. Lawyering skills take years to develop. Rather than force graduates to learn it on their own after graduation, we are committed to giving them the skills needed to practice as soon as they graduate and pass the bar."
Before the First Term: Preparation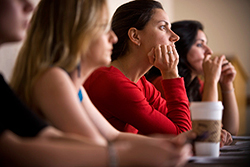 Any established attorney knows that preparation is crucial to success. At California Western, that preparation starts for students even before classes begin. The school's Summer Enrichment Program provides new students the opportunity to orient themselves to the school, introduces them to the basic structure of American law and the American legal system, familiarizes them with primary legal resources, and teaches them practical study and exam skills.
"This program introduces students to an actual first year law class," explains Traci Howard, Assistant Dean for Admissions. "Key to the program's success are the top-notch professors who are genuinely concerned with helping aspiring lawyers settle into life as law students."
Most new students expect law school to be challenging, but do not have a clear idea what those exact challenges will be. The Enrichment Program helps new law students test the academic water before diving in.
"Having the chance to take a mid-term and a law school exam developed by law professors before beginning law school is priceless," says Howard. "Students are able to prepare, practice, and receive feedback on the skills they will need in law school. They begin law school knowing already what areas they are strong in and also what areas may need more work."
"At California Western, a deliberate, sequential curriculum prepares students for the challenges of today and the future. For those who choose to take it, Summer Enrichment is the first stage of that deliberate, sequential approach. The program starts students off on the right foot by teaching them the reading, briefing, case analysis, oral advocacy, and test taking skills they will need to succeed in the rest of law school."

Michal R. Belknap
Earl Warren Professor of Law at California Western
Adjunct Professor of History, University of California, San Diego
Co-Founder of Summer Enrichment
Jordan Furrow '13, who entered law school after completing his master's degree in social work, considers the Summer Enrichment program a foundational element in his academic success.
"The enthusiasm and approachability of the professors facilitated my understanding of the material," he says. "Even though the subject matter was new, they gave me confidence that if I worked hard, I could do well." Furrow also credits the program with helping him form relationships with classmates and professors.
"Enrichment provides an opportunity for students to begin making connections so that by the first day of law school, they are already experiencing a strong sense of camaraderie and collegiality," says Howard.
During his six weeks in the program, Furrow learned how to brief cases and take exams, and eased into the rigors of law school. "Knowing that I had six weeks of law school-style classes under my belt on the first official day of school increased my confidence as well," he says.
In the First Year: Career Planning Starts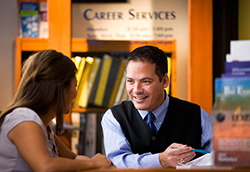 Career aspirations are never far from first year law students' minds. Therefore, students are encouraged early on to identify their long-term career goals and commit to working with the Career Services Office to develop and implement a career development plan that will put them in the best position to achieve their goals.
"First year students must take an active role in their career development, which is a process that they continue throughout their time in law school and beyond. Students cannot afford to wait until their third year to look for a post-graduate job," advises Courtney Miklusak, Director of Career Services. Miklusak and her staff meet with first year students one-on-one in order to develop a job search strategy that is individually tailored to match each student's interests, background, and goals. As part of the continuing career development process, students are also exposed to a wide variety of seminars, workshops, attorney panels, mock interviews and career fairs in order to prepare them for the competitive legal market.
Once an individualized career development plan is established, students then work with the Career Services Office to obtain internships that will provide them with practical legal experience, which is a prerequisite for success in today's legal market. The available internship opportunities are typically with the courts, private law firms, corporations, government, as well as through California Westerns Pro Bono and Public Service Programs, where students work with organizations that provide supervised legal services to less-advantaged persons.
"Another aspect of the career development process is to connect California Western's experienced alumni with current students and recent graduates for mentoring, networking and informational interviews," says Miklusak. These relationships help bridge the gap between law school and law practice. The Career Services Office continues to support California Westerns alumni after graduation and throughout their careers. "We offer counseling, coaching, interview preparation, job search strategies, networking, job postings, and the use of our staff and office to alumni in the same manner as to our current students." Miklusak explains.
In the Second Year: Students Practice Application of Ethics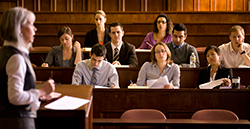 In their second year, students at California Western take the much-acclaimed STEPPS program, where they learn the knowledge, skills, and values necessary for the ethical practice of law through a client-attorney simulation course.
"This practical training is applicable in both the courtroom and the boardroom," says Professor Tim Casey, Director of STEPPS.
(View an informational video about California Western's STEPPS Program)
During STEPPS, seasoned attorneys work with students in a simulated law office, coaching them and giving them opportunities to apply what they learn in professional responsibility classes to a world where rules conflict and dilemmas abound. They get practice in everything from interviewing clients (who are paid actors), counseling, researching and negotiation, and in the finer points of professional communication and etiquette.
"Students learn to think about their actions and develop a deeper understanding of the connection between skills and values in the practice of law," Casey says. "After they complete the program, the students understand how to treat clients as people, not as legal problems."
At the end of the semester, each student completes two written projects and two lawyering performances. These include a reflective component which has had great results, according to Casey.
"A student once said to me 'I don't know if it was your intention but because you forced me to think about why I am doing what I am doing, I've become more contemplative in my life.' To me that was a tribute to the effectiveness of what we are doing in this program," he says.
Erin Dillon '11, an associate with Grant & Zeko in San Diego, credits STEPPS with bolstering her confidence as a lawyer and as an advocate for clients. The lessons learned continue to support her as she helps her firm expand its practice to include bankruptcy.
"We videotaped interactions to analyze and critique ourselves," she says. "As I sit in meetings today, never slouching, I remember those videos and how nervous I was to 'be a lawyer.' Of course I am still nervous now that I am a lawyer, but I continually strive to act professionally in every situation and I know I have come a long way from the knuckle cracking, pencil chewing student caught on video."
She also credits the program with refining her business skills.
"STEPPS definitely gave me my first taste of the rigors of billing, as we had to keep track of our time for a certain assignment," she explains. "I had no idea how hard it is to mentally go back in time seven days and try to recreate what you did for six hours until STEPPS. And needless to say, I have never made that mistake again."
In the Third Year: Internships Add Professional Polish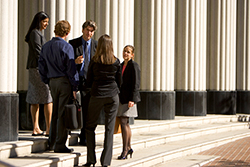 By their third year, law students are ready and excited to apply their learning in real-world situations. California Western's Clinical Internship Program places students in law offices, courts, corporations, or government agencies where they actively participate in legal work and acquire confidence and professionalism that are integral to their future success.
As the transitional step from student to lawyer, the Internship program includes networking and guidance. Students meet weekly with other interns and a supervising faculty member to share experiences and discuss practical concerns and theoretical considerations.
"Internships build and promote the confidence, problem solving skills and professionalism that lead to success as first-year attorneys," advises Ruth Briscoe, program administrator.
That's important training that law firms consider crucial in their quest to meet client demands for more accountability in fees. According to a report published in the ABA Journal in July 2012, entry-level associates cost firms more than 17 percent more than experienced attorneys.
"Law firms want new lawyers who are ready to practice. Clients will no longer tolerate paying law firms to train new associates," notes Aceves.
Planning Ahead for Successful Outcomes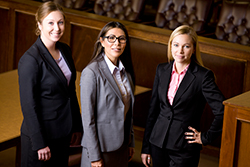 California Western leads the educational shift from teaching students theory to offering them practical experience in application by focusing on the knowledge, skills, and values necessary to develop the internal principles necessary for lawyers to exercise professional judgment.
"We are committed to providing a practical legal education for our students and training them to serve their clients and the legal profession," says Aceves. "In this way we are not just graduating new attorneys, but ethical and effective professionals who are skilled and value-driven in the practice of law."
For more information about California Westerns curriculum and innovative programs, contact our Admissions Staff.