| | |
| --- | --- |
| Hansdeep's Story | |
Ready to Make a Difference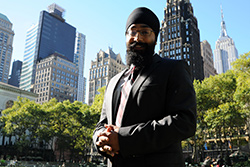 In a relatively short amount of time, Hansdeep Singh '08 has become an important force in fighting discrimination and preventing violence against vulnerable communities around the world. As a Sikh, Singh and his family have experienced discrimination first-hand. His parents left Iran and India to escape persecution, bringing the family to Southern California.
"All through my life I've made choices that have led me down a path to advocating for social justice. In college, 9/11 completely altered my perception of what it meant to be a Sikh in this society," he says. "I'd always felt American, but then I heard of Sikhs being pulled off trains because people perceived them to be terrorists because of their beards and turbans."
For Singh, choosing to pursue a career in law was a way to effect change in the post-9/11 period where fear and xenophobia still persist. He chose California Western based on the strong reputation of its International Law program, and the school's commitment to a dynamic legal education comprised of strong theoretical comprehension paired with practical skills and hands-on experience.
"The experience and education I received at California Western was invaluable in preparing me to advocate for social change," says Singh, whose participation in the school's Judicial Clerkship Program led to internships at the International Criminal Tribunals of Rwanda and Yugoslavia located in Tanzania and The Hague, respectively.
According to Singh, this time at the Tribunals elicited a sense of tranquility and gratification that helped assuage memories from his youth when he felt powerless to address appalling injustices in any meaningful way. "It was extremely moving and humbling to witness how the first Criminal Tribunals since Nuremburg were able to hold accountable those who carried out mass atrocities," he says.
Singh felt empowered by California Westerns Judicial Clerkship Program because he was part of a process that sought justice for unspeakable crimes, and wanted to sustain that feeling throughout his entire life. Though he recognized the limits of what one person could do, he knew that he wanted to devote his life to working on behalf of voiceless and marginalized communities.
After earning his J.D. at California Western and an LL.M. in International Law & Justice at Fordham, Singh served as Senior Staff Attorney at UNITED SIKHS, a UN-affiliated nonprofit that challenged post-9/11 civil rights issues and the resultant policies that had a detrimental disparate impact on the Sikh community.
In 2012, Singh co-founded the International Center for Advocates Against Discrimination (ICAAD), where he focuses on combating structural discrimination in three program areas: women's rights, religious freedom, and minority rights. "In my work at ICAAD, I am able to harness all of the skills that I have gained through my education and internship opportunities," says Singh.
While studying at California Western, he wrote scholarly papers on extradition of political dissidents, religious accommodation, and crimes against humanity. Interestingly, each situation had one common theme - discrimination - the core facet of what ICAAD seeks to combat. Since graduation, he has secured numerous accommodations in various venues, including: schools, testing facilities, and federal buildings.
Last year, ICAAD settled a case against the Transportation Security Agency (TSA) for discrimination against one of their employees - the details of which were covered by the Washington Post.