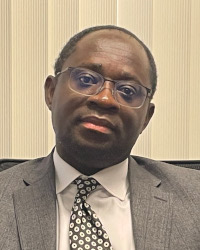 Richard F. Oppong
Professor of Law

Biography
Richard Oppong is a Professor of Law at California Western School of Law, where he joined in July 2021. Before coming to California, he taught at universities in Canada and the United Kingdom. He completed his PhD at the University of British Columbia and Post-doctoral studies at the Schulich School of Law, Dalhousie University, both in Canada. He holds a Master of Laws degree from Harvard Law School, a first-class Master of Laws degree in Commercial Law from the University of Cambridge, and a first-class Bachelor of Laws degree from the University of Ghana.
Professor Oppong researches and works extensively in Africa. He is an external advisor to universities in Ghana, Malawi, South Africa, Tanzania, and Uganda. He has published widely on private international law, international arbitration, and regional economic integration. He is the author of The Government of Ghana and International Arbitration (2017), Private International Law in Commonwealth Africa (2013) and Legal Aspects of Economic Integration in Africa (2011), and co-author of Private International Law in Nigeria (2020).
Professor Oppong's scholarship has been translated into French and Chinese. Some of his writings have won international writing prizes, including the 2013 American Society of International Law prize in Private International Law and the 2014 James Crawford Prize of the Journal of International Dispute Settlement. In 2011 he was nominated for the Hessel Yntema Prize of the American Journal of Comparative Law. His research has been funded by the Social Sciences and Humanities Research Council, Canada; the Killam Trusts, Canada; and the British Academy.
Professor Oppong is a Fellow of the Ghana Academy of Arts and Sciences and a Member of the Royal Society of Canada's College of New Scholars, Artists and Scientists. He is also an elected Associate Member of the International Academy of Comparative Law. He was a member of the Working Group that drafted The Hague Principles on Choice of Law in International Commercial Contracts, 2015. He was the Director of Studies (Private International Law) at the Hague Academy of International Law in 2012.
PhD. University of British Columbia
LL.M. Harvard University
LL.M. University of Cambridge
B.L. Ghana School of Law
LL.B. University of Ghana
Books
PRIVATE INTERNATIONAL LAW IN NIGERIA (2020) [Co-author Chukwuma Okoli].
THE GOVERNMENT OF GHANA AND INTERNATIONAL ARBITRATION (2017).
A COMMITMENT TO LAW, DEVELOPMENT AND PUBLIC POLICY: A FESTSCHRIFT IN HONOUR OF NANA DR. SKB ASANTE (2016). [Co-editor: Kissi Agyebeng].
PRIVATE INTERNATIONAL LAW IN COMMONWEALTH AFRICA (2013).
LEGAL ASPECTS OF ECONOMIC INTEGRATION IN AFRICA (2011).
Articles
The Dawn of the Free and Fair Movement of Foreign Judgments in Africa, 16

J. Priv. Int'l L

575 (2020).
The Lex Loci Delicti Rule in Canadian Conflict of Laws, 21

Yrbk. Priv. Int'l L

457 (2020) (Co-author: Sam Tecle).
The East African Court of Justice, Enforcement of Foreign Arbitration Awards and the East African Community Integration Process, 63 J. AFR. L 1 (2019).
Implementation of Community Law in Member States of African Regional Economic Communities, 45 THE AFR. REV. 301 (2018).
Foreign Same-Sex Marriages Before Commonwealth African Courts, 18

Yrbk. Priv. Int'l L

36 (2017) (Co-author: Solomon Amoateng).
Damages for Breach and Interpretation of Jurisdiction Agreements in Common Law Canada, 95 CAN. BAR REV. 383 (2017) (Co-author: Shannon Kathleen Clark Gibbs).
The High Court of Ghana Declines to Enforce an ECOWAS Court Judgment, (2017) 25 AFR. J. INT'L COMP. L. 127 (2017).
Recognition and Enforcement of Foreign Judgments in Commonwealth African Countries, 15

Yrbk. Priv. Int'l L

365 (2014).
Globalization and Private International Law in Commonwealth Africa, 36 UNIV. ARKANSAS LITTLE ROCK L. REV 153 (2014).
Enforcing Judgments of International Courts in National Courts, 5 (2014) 5 J. INT'L DISPUTE SETTLEMENT 344 (2014) (Co-author: Lisa C. Niro).
Legitimacy of Regional Economic Integration Courts in Africa, 7 AFR. J. LEGAL STUD. 61 (2014).
Private International Law Scholarship in Africa (1884-2009) – A Selected Bibliography, 58 AM. J. COM. L. 319 (2010).
Roman-Dutch Law meets the Common Law on Jurisdiction in International Matters, 4

J. Priv. Int'l L

311 (2008).
Re-imagining International Law: An Examination of Recent Trends in the Reception of International Law into National Legal Systems in Africa, 30 FORDHAM INT' L. J. 296 (2007).
Private International Law in Africa: The Past, Present and Future, 55 AM. J. COMP. L. 677 (2007).
Mere Presence and International Competence in Private International Law, 3

J. Priv. Int'l

L 321 (2007).
Observing the Legal System of the Community: The Relationship between Community and National Legal System under the African Economic Community Treaty, 15 TUL. J. INT'L & COMP. L. 41 (2006).