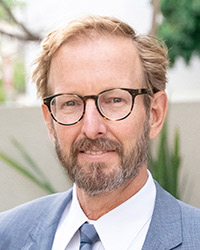 Tim Casey
Professor in Residence
Director of STEPPS

Biography
Professor Timothy Casey serves as the Director of the STEPPS Program and Professor in Residence at California Western School of Law. He received his Bachelor's Degree from Boston College in Economics and Philosophy, a Juris Doctor from the University of California, Hastings College of Law, and an LLM degree from Columbia Law School. Casey started his teaching career at Columbia, where he established a Criminal Practice Clinic and received the Presidential Award for teaching while serving as an Associate in Law. Before moving to San Diego, Casey held an appointment as a Professor of Law at Case Western Reserve University in Cleveland, Ohio. He also received a Fulbright award for research and teaching at the Universidad de San Andres in Buenos Aires, Argentina. His research interests include surveillance and civil liberties, problem solving courts, and experiential pedagogy. His most recent scholarship appeared in the peer-reviewed Clinical Law Review and focused on the "Stages of Reflection." He also serves on the Ethics Committee of the San Diego County Bar Association, and as a board member for both local and international non-profit organizations.
Professor Casey brings experience as a practitioner and experience as a teacher to the STEPPS Program. He works closely with members of the faculty to develop and implement the curriculum and meets weekly with the adjunct professors who serve as supervising attorneys in the small law offices. In addition to his duties with the STEPPS Program, Professor Casey teaches a seminar in Surveillance, Civil Liberties and National Intelligence, and an seminar in the Internship Program.
LLM, Columbia University School of Law, 2004
JD, University of California Hastings College of the Law, 1992
MA/BA, Boston College, 1988
Articles
"Reflective Practice in Legal Education: The Stages of Reflection," 20

Clin. L. Rev.

317 (2014).
"Reforming the Legal Curriculum: Integration into the Practice,"

R.E.D.U.

(Revista de Docencia Universitaria) Vol. 12 (3), No. 2014, 65-91 (2014).
"Brutal Choices in Curricular Design…Making Lawyers Out of Law Students: Shifting the Locus of Authority," 20 Perspectives: Teaching Legal Res. & Writing 96, 2012 [with Kathryn Fehrman].
"Electronic Surveillance and The Right to be Secure," 41

U.C. Davis L. Rev

977, 2008.
"Problem Solving Courts and the Impending Crisis of Legitimacy," 57

S.M.U. Law Review

1459, 2004.