California Western Launches Law, Justice, and Technology Initiative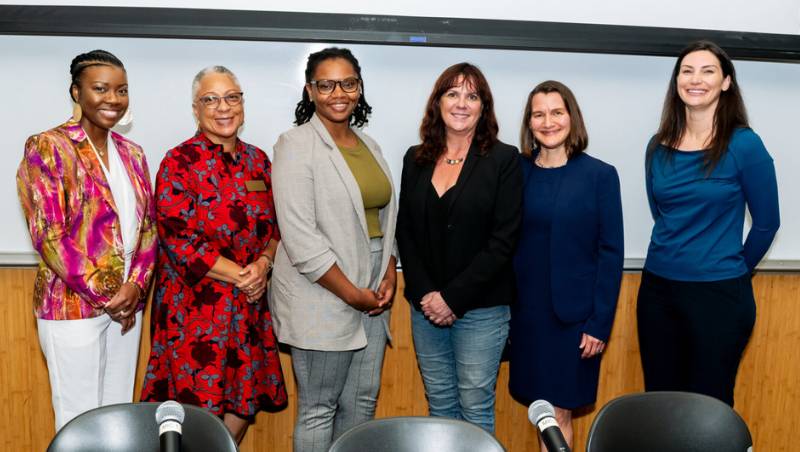 On Thursday, October 12, 2023, President and Dean Sean Scott officially launched California Western's Law, Justice, and Technology Initiative (LJTI).
Dean Scott's vision for the LJTI is to make California Western a hub for conversations with premier legal thinkers and professionals discussing the most pressing matters at the intersections of law, justice, and technology. The Initiative will also entail a comprehensive review of the curriculum and resources we offer our students, making sure they are empowered to use the latest legal technologies ethically and effectively and to navigate the complexities of new technology law as it arises.
To kick off the LJTI, CWSL held a two-part event called Algorithmic Justice: The New Frontier. Earlier in the day, the school screened the film Coded Bias, which follows Ghanaian-American-Canadian computer scientist Joy Buolamwini, PhD, as she investigates built in bias in facial recognition systems and the threats that unregulated AI and algorithmic technologies pose to society.
Part two of the launch featured a panel discussion about algorithms' perpetuation of and contribution to social inequities and what can be done about it. The conversation was moderated by CWSL alumna Maresa Talbert '17, who runs her own intellectual property firm. Panelists included Brenda Simon, CWSL's ProFlowers Professor of Internet Studies; Jessica Gross '17, Corporate Counsel for Privacy and Data at Sony Interactive Entertainment; Corynne McSherry, Legal Director of the Electronic Frontier Foundation (EFF); and Alexis Hancock, Director of Engineering at EFF.
As she introduced the evening's panel, Dean Scott remarked that "future work to end systemic injustices in law depends on a better-informed legal academy and profession," which is her ultimate goal for CWSL and for the Law, Justice, and Technology Initiative— to give students the training and experience needed to be leaders in creating a more just society.
Beginning the conversation, the panelists were eager to dispel certain myths about AI—no, it's not sentient and yes, apocalyptic speculations are overblown. They each wanted to highlight the harms that are already being done, especially to marginalized communities, because, as Ms. Hancock noted, "bias is built into these algorithmic systems, because the data they are built on comes from people and their history." Professor Simon remarked that these harms are often allowed to go on, because business models incentivize "dehumanization" through isolation and extremism, which generate money through clicks.
When Ms. Talbert asked about responsibility for and regulation against these harms, Ms. McSherry commented that there is reason to worry about the "rush to regulate" and a "moral panic" about generative AI, while there is ample documentation of algorithmic bias in the realms of privacy, housing, employment, and policing. Ms. Hancock added that there is plenty of opportunity to use AI for the good—from archaeology digs to cancer and pregnancy screenings—and that she supports AI when it's used to help people, rather than testing it in systems that are already fraught, like prisons and policing.
This opened into a broader conversation about the future challenges posed by AI and algorithms. Professor Simon commented that she is increasingly concerned about questions of intellectual property and access to technology, whether inventors in marginalized communities will be precluded from getting patents and whether the innovation gap will widen, if some people have access to higher quality AI than others. Ms. Gross warned about the challenges AI will pose to the job market and predicted a greater disruption to the economy, as competition grows between corporations to maximize efficiency.
The panelists were in agreement that AI will transform society in the years to come and that it is incumbent on all of us, but especially lawyers and advocates to agitate for equity in the development, distribution, and execution of these new technologies.
With the Law, Justice, and Technology under way, California Western faculty and students will be at the forefront of that fight.