We understand attending law school is a big decision. That is why we offer several resources to help you in your housing search once you make the decision to come to San Diego to attend California Western.
Housing in San Diego
Whether you're looking for a roommate or a place on your own, moving alone or relocating your family, we will work to help make the transition as easy as possible.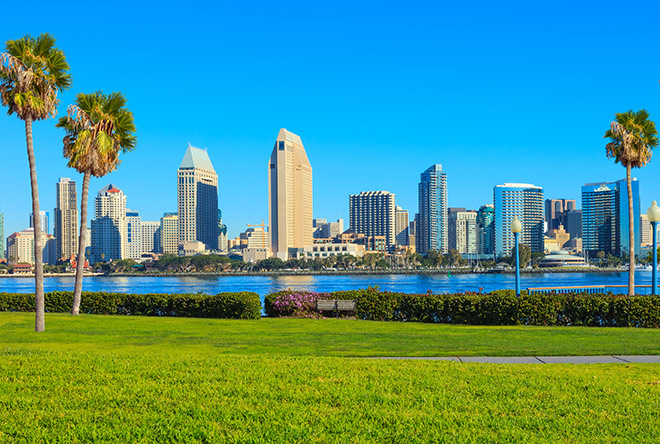 Our beautiful San Diego campus is located in the northern part of downtown San Diego. Our location allows our students to have access to the business district, courthouses, law firms, housing, hundreds of restaurants and shops, theatres, the waterfront, and much more.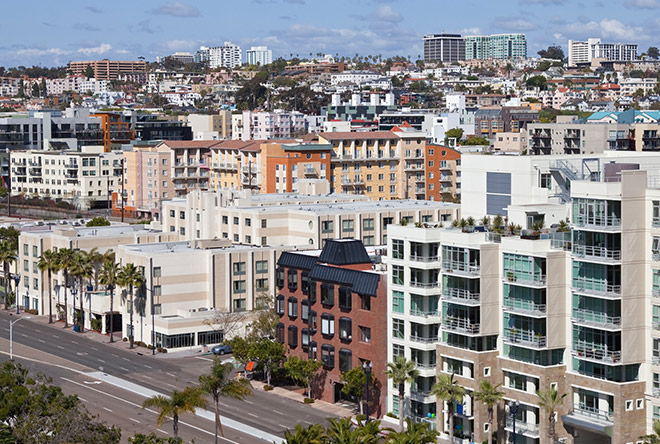 Housing Resources
The CWSL Admissions Office is committed to helping incoming students with their search for housing. Some of those resources include individual housing counseling, a roommate listing service exclusive to current and incoming students, housing websites, and tips on starting your housing search.
Step-by-step guide for finding housing
When it comes to securing housing, we are here to help. Here are some steps to consider in your housing search.
Set a budget

Consider all related costs. Before you begin your house search it is important to look at finances and circumstances, so you know what price range for housing. When you make your rental budget make sure to consider other living costs like utilities, parking, and pet rent.

Consider living with a roommate. While some students choose to live alone, living with a roommate can lower your living costs. By splitting rent and other related costs you may be able to save even more. Incoming and current students will be invited to join the CWSL Housing Page where you can connect with others looking for roommates.

Decide where you want to live

How close do you want to be to school? While San Diego is a large city it does offer dozens of small neighborhoods within city limits. Check out our neighborhood map for a list of locations and their proximity to campus.

What kind of neighborhood are you looking for? Once you find an area you like check out our San Diego neighborhood guide for more information on those neighborhoods. Many neighborhoods also have their own website which can be another great place to get a sense of the area.

Online search tools

Many students use our private CWSL admitted student Facebook groups (Entering Class Pages, Housing) or other general Facebook groups (Roommates Wanted: San Diego Female Chapter, San Diego Rent House/Room/Apartment) to find roommates and apartments. Students also use websites like Zillow, Apartments.com, HotPads, VeryApt, and Dwellsy to look for housing. While these can be helpful and good starting points there are many other websites to aid in the search. When looking through online listings pay close attention to the details of each listing to make sure the property meets your requirements and has the amenities you are looking for.

Tour your options

Once you narrow down your options it's important to make sure you will be comfortable living there. Many properties allow you to see a property virtually or in person. When visiting a property, it is important to consider the surrounding neighborhood, the security of the unit, and the amount of space you will have. While coming to San Diego may not be an option for everyone, virtual tours are a great way to look at housing. You may also consider using the CWSL Housing Page to have a roommate assist with the housing search. Once you have found a place be prepared to submit an application which usually requires a fee.

Review the lease and know your rights

Before signing a lease make sure to thoroughly review and understand the responsibilities of each party. If you are unsure about any of the lease provisions, do your research to make sure they are allowed under the law and that you feel comfortable with them before signing. Some items to pay close attention to some of the following:


What is the length of the lease? What happens once the lease term ends?
How much is the security deposit? What is the process for getting it back?
When is the rent due and what is the required method of payment?
Does the rent cover any utilities or other fees?
What are the rules regarding pets, parking, or subleasing etc.?
Admissions
The CWSL Admissions Office is here to help if have any questions about the housing search process.
Contact Us
Monday – Friday: 9 a.m. – 5.p.m.
225 Cedar Street, 1st Floor
San Diego, CA 92101