California Western School of Law has been helping students become lawyers and serve their communities for nearly 100 years. At CWSL our mission is to train ethical, competent and compassionate lawyers, representative of our diverse society, who can use the law effectively and creatively.
Board of Trustees
The school is governed by a Board of Trustees that includes members of the judiciary, the practicing bar, academia and the business world. Numerous members of the Board are graduates of CWSL. Trustees provide fiscal oversight of all law school operations, and provide key insights gained through their years of practice and work in the private and public sector. These and other functions are guided by traditional principles of academic governance, and a culture of transparent communication and trust.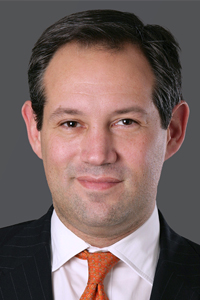 Jason Bazar '96
Jason Bazar is Co-Chair of the firmwide Tax Transactions & Consulting practice at Mayer Brown, which he joined in 2001 and became a partner in 2006. He advises corporate, banking and investment fund clients on the tax aspects of financing and business combination transactions.
Jason regularly advises clients on the tax aspects of cross-border and domestic financing transactions, including leveraged financings, asset-based loans, securitizations and other structured financings, as well as lease transactions. In the capital markets area, Jason counsels clients on the tax aspects of debt, equity and hybrid securities offerings, U.S. and non-U.S. financial instruments and other capital markets transactions.
He earned his BA from James Madison University and in addition to a JD from California Western earned an LLM in Tax from New York University.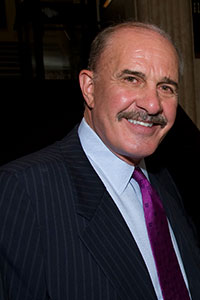 Roy M. Bell '74
Roy M. Bell '74 is senior counsel at Troutman Sanders LLP, where he focuses his practice on complex business civil litigation and trial work. Bell serves as special outside counsel to Oxbow Carbon and Minerals and the Oxbow Group, overseeing major issues, litigation, and negotiations relating to their worldwide operations.
Bell served two tours in the Western Pacific during the Vietnam Conflict where he earned two Navy Commendations, the Navy Achievement Medal, the Vietnam Unit Medal of Gallantry, and six Vietnam Campaign Medals. He graduated from California Western with honors in 1974, and was valedictorian. Bell was as lead articles editor for the California Western International Law Review, and is chairman emeritus of the Board of Trustees, having served for more than 25 years.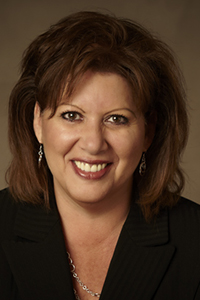 Gayle M. Blatt '85
Gayle M. Blatt '85 is a partner at Casey Gerry Schenk Francavilla Blatt & Penfield, LLP where she heads the firm's pharmaceutical and class action practices. Blatt has played a prominent role in national pharmaceutical and medical device cases over the past decades. In addition to other experience in high profile national pharmaceutical litigation, she served as liaison counsel for the plaintiffs' steering committee in In re: Hydroxycut Marketing and Sales Practice Litigation, which recently settled in the Southern District of California, and currently serves as co-liaison counsel for In re: Incretin Mimetics Products Liability Litigation.
Blatt also has extensive class action litigation experience, including serving as co-liaison counsel in In re: Sony Gaming Networks and Customer Data Security Breach Litigation; as class counsel in Villa v. City of Chula Vista addressing the city's tax collection on mobile telephone services; as class counsel In re: Apple and AT&T iPad Unlimited Data Plan Litigation in the Northern District of California; and with a class action filed against Chase Bank of violation of the Telephone Consumer Protection Act for placing automated calls (robocalls) to consumer cell phones without their consent.
Blatt also is recognized by her peers for her work with serious personal injury cases. She has received the Consumer Attorneys of San Diego "Outstanding Trial Lawyer" award three times; has been recognized in Super Lawyers from 2007 through 2014; recognized three times on the Super Lawyers' list of Top 25 Women Lawyers in San Diego; included in the San Diego Daily Transcript Top Attorney list; and listed annually in the Best Lawyers of America.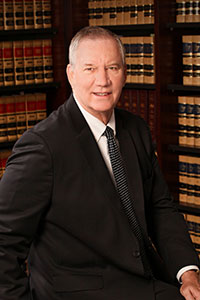 Charles R. Grebing '70
Charles Grebing is one of San Diego's leading legal malpractice attorneys. Not only does Grebing defend attorneys and law firms against malpractice claims, he has also represented officers, directors, brokers, agents, architects, and engineers accused of errors and omissions.
Grebing has tried more than 100 cases in federal and state courts. His practice areas include complex civil and business litigation, and professional liability litigation. Grebing has received an AV Preeminent© rating (highest legal competence) from Martindale-Hubbell and has been listed in the Best Lawyers in America© for nearly 20 years. He is a member of the American College of Trial Lawyers, an association of lawyers and judges experienced in the trial of cases who are dedicated to the improvement of the standards of trial practice. Grebing is a past president of CAL-ABOTA, the California regional chapter of the American Board of Trial Advocates. He is recognized as a Certified Legal Malpractice Specialist by the California State Bar, and was one of the original 14 certified legal malpractice specialists in San Diego.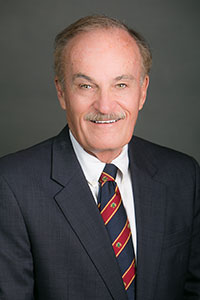 Kenneth L. Greenman '71
Kenneth L. Greenman '71 is a founding partner of Greenman, Lacy, Klein, O'Harra and Heffron. Greenman has practiced estate planning, trust, wills, and probate law exclusively for more than 25 years—with special focus on complex trusts and estates—and has held Martindale-Hubble's AV Preeminent rating for more than 20 years. He is a member of the United States Supreme Court Bar, the California State Bar, the United States Courts of Appeals for the Ninth, Seventh, and Fifth Circuits, and the United States District Courts for the Central and Southern Districts of California.
Currently chair emeritus of the Board of Trustees, Greenman served as editor-in-chief of the California Western Law Review and received American Jurisprudence Awards in wills and trusts, corporations, and conflicts of law while in law school. He also received the Dean's Award - Outstanding Law Student, and graduated with honors. Upon graduation, Greenman was selected as a United States Attorney General Honor Law Graduate Fellow, serving in the Department of Justice's U.S. Supreme Court appellate section.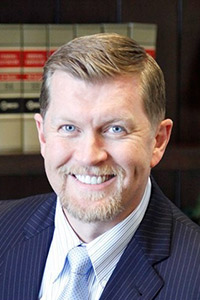 D. Russell Hymas '04
D. Russell Hymas'04 is the managing partner and attorney at Christensen & Hymas where he specializes in representing seriously injured persons involved in automobile, bicycle and motorcycle accidents as well as premise liability claims. An experienced negotiator and litigator, Hymas assists clients with settlements, arbitration awards, and judgments. Prior to joining Christensen & Hymas, he worked for an international law firm in San Diego, where he worked on complex litigation and transactional matters. Hymas co-authored The Utah Bicycle Accident Handbook and has received numerous industry awards and recognitions.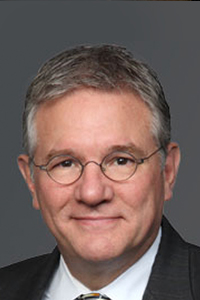 Duane Layton '82
Duane W. Layton is a Senior Partner with Mayer Brown LLP in Washington, D.C. and the Global Head of its International Trade Law Group. His practice concentrates on international dispute settlement, including disputes before the World Trade Organization (WTO) in Geneva, Switzerland; international trade and investment law; and international trade negotiations and policy.
Prior to joining Mayer Brown in 2006, Layton headed the International Trade Litigation Group at another prominent law firm in Washington, DC. From 1994 to 1999 he was Senior Counsel at the US Department of Commerce, where he received numerous honors and awards, including "Attorney of the Year" in 1998, and similar awards in the Office of the Chief Counsel for Import Administration in 1988 and 1996.
Layton is a 1982 graduate of California Western (cum laude) and a 1983 graduate (LL.M), with high honors, of Cambridge University in England. He is ranked as one of the Top 30 International Trade Practitioners in the US by Best of the Best USA and recognized in the Guide to the World's Leading International Lawyers, Legal 500, Super Lawyers and The International Who's Who of Trade & Customs Lawyers. In 2013, Layton's lead role on a successful challenge on behalf of the Government of Indonesia before the WTO involving clove cigarettes was named the "Global Dispute of the Year: International Litigation" by American Lawyer. His published works on international trade law and international dispute settlement appear in numerous books and journals, including the Stanford Journal of International Law, the Journal of World Trade, and Business Law International.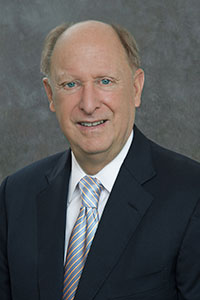 Jeffrey D. Lewin '75
Jeffrey D. Lewin is Chair Emeritus and Member of the California Western Board of Trustees on which he has served since 1991. In 1975, he graduated from California Western with honors, served on the law review and was the national champion in the Giles Sutherland Rich Patent Moot Court Competition. After graduating from California Western, Lewin served as a trial attorney in the Antitrust Division of the United States Department of Justice and founded the Sullivan Hill, Lewin, Rez & Engel law firm (and its predecessors). Until his retirement from the practice of law at the end of 2017 for 40 years, Lewin prepared and tried serious business lawsuits for sophisticated clients in state and federal courts throughout the United States, wrote and published several legal articles, and gave lectures and presentations about US law in the United States and abroad. In addition, for 20 years, he mentored and trained more than 40 foreign lawyers in US litigation.
Lewin was a member of a number of local and national professional legal organizations and the Steering Committee of the UCSD Economics Roundtable. Although Lewin no longer practices law, he consults with lawyers about effective dispute resolution.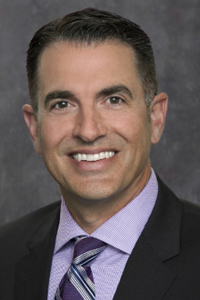 Tom Lofaro
Tom Lofaro is General Counsel & Corporate Secretary for the Ledcor Group of Companies, where he is responsible for directing the overall delivery of legal services across the enterprise. In addition to leading the long-term direction of Ledcor's legal team and developing and executing the department's strategic plan, his primary day-to-day responsibilities include general oversight of company litigation, negotiating and managing construction contracts and commercial transactions for the company's business units, and assisting executive management in developing business strategies to meet company objectives.
In the community, Tom also serves as a member of the Policy Advisory Board for the Burnham-Moores Center for Real Estate at USD. He is a past Chairman and a member of the Board of Directors of the Century Club of San Diego, the host organization for the PGA Tour's annual Farmers Insurance Open and served as a member of the Board of Trustees of the Rady Children's Hospital Foundation. He also volunteers his time as a Temporary Judge for the San Diego Superior Court.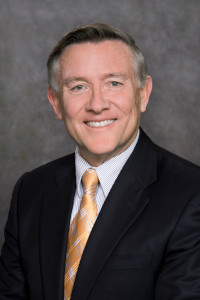 Bruce MacDonald '87, Vice Admiral, JAGC, USN (Ret.)
Bruce MacDonald is a retired United States Navy vice admiral who last served as the 40th Judge Advocate General of the United States Navy from July 2006 to August 2009. Prior to that, MacDonald served as the Navy's Deputy Judge Advocate General and Commander, Naval Legal Service Command from November 2004 to July 2006. Over his 31 year Navy career, he served in numerous operational and international law assignments, both at home and abroad. He retired from the Navy in October, 2009.
In March, 2010, MacDonald was appointed to the Senior Executive Service by Secretary of Defense Robert Gates, and served for three years as Convening Authority for the Office of Military Commissions. He joined Applied Technical Systems, a data analytics, management, software development and services company, in April 2013, where he served as its President and Chief Executive Officer until June 2016. In October 2018, he accepted an appointment as Vice President, Institutional Advancement at his alma mater, California Western School of Law where he served until February 2021.
MacDonald graduated from the College of the Holy Cross in 1978 with a Bachelor of Arts degree in English. He received his degree of Juris Doctor from California Western School of Law in 1987 and his Master of Laws degree from Harvard Law School in Cambridge, Massachusetts in 1992.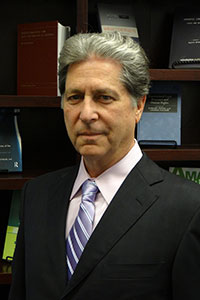 Mark P. Mandell '77
Mark P. Mandell '77 is chief executive officer of Square One Development in San Diego, also serving as the company's legal counsel and director of finance. Mandell began his practice in real estate transactional law in 1977, focusing on acquisition, development, finance, and entitlements.
Mandell served on the board of directors at San Diego National Bank from 1992 to 2009, and has founded and managed numerous businesses (not related to real estate) over the years.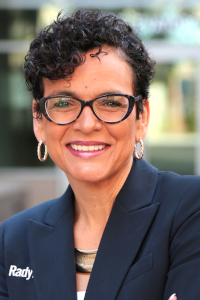 Lisa Ordóñez, PhD
Lisa Ordóñez was appointed Dean of UC San Diego's Rady School of Management in September 2019. As the School's second dean, she is transitioning Rady from a start-up to focus on growth, further cementing the school's global business research prominence and impact as an innovation focused, economic engine within the San Diego business community and beyond. She has brought a renewed emphasis on Equity, Diversity, and Inclusion to the school and has already made great strides in increasing the number of female and underrepresented minority faculty at Rady.
Lisa received all three degrees from UC Berkeley: BA in Psychology (1989), MS in Marketing (1992) and PhD in Quantitative Psychology (1994). She spent her first 25 years at the Eller College of Management at the University of Arizona, serving as the Vice Dean for the last 4 ½ years before moving to Rady.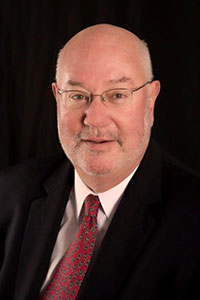 Robert K. Scott '75
Robert K. Scott '75 is a trial attorney who has practiced law in California for more than 45 years, specializing in all aspects of insurance "bad faith" litigation. Scott has obtained multi-million dollar judgments, favorable appellate decisions, and arbitration awards, as well as substantial out-of-court settlements on behalf of his clients. He is now mediating cases for the Superior Court and independently.
Scott is co-author—with colleague and former California Trial Lawyers Association President Douglas K. deVries—of "Establishing Insurance Bad Faith" in the Insurance Settlement Handbook. He previously served as chairman and member of the executive committee of the board of trustees of Irvine Regional Hospital and Medical Center and a member of the board of trustees of the Irvine Cancer Center. Additionally, Scott has served on the board of the American Bar Association Tort and Insurance Practice subcommittees on disability, health, and life insurance. He is a frequent author and speaker on insurance-related matters.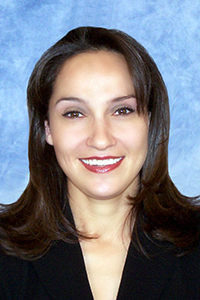 Rahil K. Swigart '03
Rahil K. Swigart is an '03 graduate of CWSL. She previously represented and advised businesses in disputes, including those concerning judicial foreclosure actions, misappropriation of trade secrets and proprietary information, covenants not to compete, breach of contract, copyright, and unfair business practices.
In addition to litigation disputes, Swigart has assisted individuals and businesses in transactional matters, such as assisting selling/buying real estate properties, forming business entities, and reviewing mortgage and deeds of trust documents for both commercial and residential real estate. She also assists clients in arbitration proceedings for refund of deposits in real estate development projects. She has a California Real Estate Brokers License.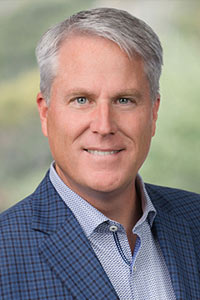 Michael J. Whitton
Michael J. Whitton is San Diego managing partner at Troutman Pepper, LLP, where he advises and counsels public and private companies, real estate investment trusts, and lending and financial institutions on a variety of complex real estate and business transactions throughout the country.
Whitton is considered one of the leading experts in transactions and other legal matters involving golf courses/country clubs, marinas, hotels, and other resort properties. He has received numerous accolades for his work, including being named one of 10 "Best Attorneys in the Golf Industry" by Golf, Inc. in 2011 and 2012.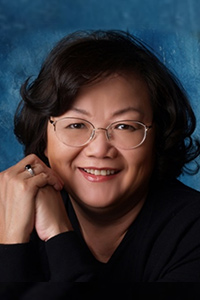 Sally WongAvery '83
SalvadorOriginally from Hong Kong, Sally WongAvery '83 came to San Diego as an international student earning her Bachelors in Philosophy from the University of California San Diego and her Juris Doctorate from California Western. After law school, she served as the Executive Director of the Chinese Social Service Center of San Diego. In addition, she was the first female elected President of the Chinese Benevolent Organization, one of San Diego's oldest Chinese community organizations. In the mid-1980s, she became the Principal of the Chinese School in San Diego.
Fluent in the Chinese dialects of Mandarin, Cantonese, Hakka, and Toishan, WongAvery has always been very active in the community. As a lawyer in her private practice, she represented and advocated for community members in need and was a great philanthropist. WongAvery won the Ellis Island Medal of Honor in 2009. She is also the recipient of the Taiwan Overseas Chinese Commission's Outstanding Teaching Award, the Special Recognition Award from the Asian Heritage Awards, the Susan B. Anthony Leadership Award and the Women's International Center's Living Legacy Award.
Tina M. Fryar '97
Tina M. Fryar has represented clients ranging from small businesses to Fortune 500 companies in both state and federal litigation. Her practice has included the defense of both private companies and public entities in cases involving claims of discrimination, harassment and retaliation; negligent hiring, training and supervision; wrongful termination; defamation; personal injury; and federal civil rights violations under 42 U.S.C. 1983.

In 2010, Fryar joined the ranks of those practitioners selected for inclusion on the California Super Lawyers list of attorneys. Fryar was the co-founder of Park Fryar LLP, a women-owned San Diego law firm. She was previously employed by global law firm Littler Mendelson and, prior to that, was employed by San Diego's oldest law firm Higgs, Fletcher & Mack. Fryar has served in leadership roles in several San Diego legal organizations and is a past member of the board of directors of the San Diego County Bar Association.

Fryar earned her Juris Doctorate from California Western School of Law in 1997 where she served the school as President of the Student Bar Association. During her time at the law school, Fryar was an Academic Achievement Award recipient, Dean's Scholarship recipient, and Faculty Award Recipient.