Community Law Project Nonprofit of the Year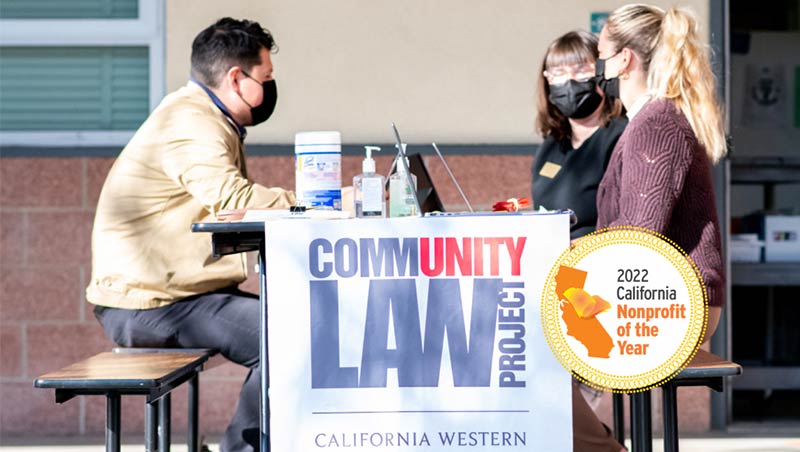 California Western School of Law's Community Law Project has been selected as Assemblymember Chris Ward's (San Diego-D) 2022 California Nonprofit of the Year.
The Community Law Project (CLP) is one of more than one hundred nonprofits that will be honored throughout California for their outstanding contributions to the communities they serve.
CLP provides vital pro bono legal services to low-income people in the greater San Diego area. Many of its clients often lack the resources to access legal representation or require assistance navigating the legal system. Staff, students, and volunteer attorneys work on cases ranging from landlord/tenant law to family law, with California Western students gaining hands-on experience and becoming lifelong advocates for pro bono representation.
CLP's collaborative model also integrates other services, such as medical care, into clinic locations throughout the region, which reflects the often-complex needs of its population.
"I am proud to honor the Community Law Project as the Nonprofit of the Year for Assembly District 78. Their services are critical to so many San Diegans who would otherwise go without legal representation because of financial barriers," said Assemblymember Ward. "By providing law students the opportunity to work side-by-side with attorneys of various backgrounds, and in an environment that exposes them to the needs of our community, CLP is training the next generation of civic-minded leaders."
CLP will be among the nonprofits honored at a California Nonprofits Day luncheon in Sacramento on Wednesday, June 8, on the West Side Lawn of the Capitol.
"The Community Law Project is honored to have been selected as Nonprofit of the Year by Assemblymember Christopher Ward," said Dana Sisitsky, CLP's Executive Director. "Our staff, students, and volunteers take pride in our accomplishments toward making San Diego a more just community and appreciate this recognition."
"Nonprofit organizations play such a critical role in our communities, and the last two years of the pandemic have only served to highlight that," noted Jan Masaoka, CEO of the California Association of Nonprofits (CalNonprofits), which serves as a partner for this awards program. "California Nonprofit of the Year gives elected officials the opportunity to shine a light on the important work nonprofits are doing in their districts and for everyone to appreciate the collective impact of nonprofits in our communities."