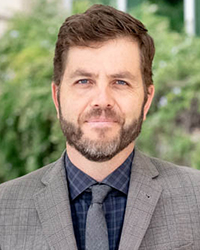 Art Neill
Associate Clinical Professor Executive Director
New Media Rights Clinic
General Counsel

New Media Rights
General Counsel
Faculty

Biography
Art is the founder and Executive Director of New Media Rights, and specializes in internet, intellectual property, privacy, and media law. An adjunct professor at California Western School of Law, Art teaches Internet & Social Media Law as well as the Internet & Media Law Clinic. He writes about legal issues for creators and small businesses as a Contributor for Forbes.
Art is the author of the book Don't Panic ☺ A Legal Guide (in plain English) for Small Businesses and Creative Professionals which is used by universities across the country to teach legal concepts to students. He is also is the creator of the Fair Use App, which is licensed by the University of California to teach concepts surrounding fair use and content reuse to staff and faculty.
In 2011, 2013, and 2015 Art was appointed as a member of the Federal Communication Commission's Consumer Advisory Committee, where he served as Co-chair of the Broadband Working Group. He has published numerous articles on copyright and net neutrality including in the Texas Intellectual Property Law Journal, the Tulane Intellectual Property Law and Technology Journal, the Journal for Internet Law, and CEB Business Law Quarterly (a publication of the State Bar of California and the University of California), among others. He speaks regularly on his areas of expertise, and has been a speaker at the Copyright Society of the USA, the American Intellectual Property Law Association, the National Media Reform Conference, and the California State Bar Intellectual Property conference, among others. Art received his J.D. from University of San Diego School of Law in 2006, and his B.A. from the College of William & Mary in 2001.
Read more about Art at New Media Rights.
Contributor for Forbes on intellectual property, media and privacy law issues. View all articles.
Fixing Copyright Registration for Online Video Creators: The Case for Group Registration of Published Videos, 28 Tex. Intell. Prop. L. J. 87 (2019). (with Erika Lee)
Fixing Section 1201: Legislative and Regulatory Reforms for the DMCA Anti-Circumvention Provisions, Tulane Journal of Technology and Intellectual Property (December 2016)
Fixing Section 512 – Legislative Reforms for the DMCA Safe Harbor Provisions, California Western School of Law Research Paper No. 17-1 (2016) (with Erika Lee).
How the FCC Can Preserve the Open Internet: The Case for Reclassifying Broadband Internet Access under Title II,18 No. 9 J. Internet Law (2015)
Does a New Wave of Filesharing Lawsuits Represent a New Business Model for Copyright Owners?, 14 No. 12 J. Internet Law 1 (2011)
Social Media and the Law: Here Comes Everybody!, CEB Business Law Quarterly (A publication of the University of California and the State Bar of California) (May 2010)
Don't Panic: A Legal Guide for Small Businesses & Creative Professionals (2016 & 2017). This book is used as required text in numerous undergraduate and graduate courses around media and technology. Link
In the Matter of Registration Modernization, Docket No 2018-9, Comments of New Media Rights (filed Jan 15, 2019).
Petitions for renewal of DMCA exemption classes for computer programs, noncommercial, and documentary films Docket No. 2017-10 (July 2020)
SB 822 NMR Letter of Support for California Net Neutrality Law (April 11, 2018) Link
In the Matter of Restoring Internet Freedom, WC Docket No. 17-108, FCC 17-60, Comments of New Media Rights July 17, 2017 Link
Petitions for renewal of DMCA exemption classes for computer programs, noncommercial, and documentary films Docket No. 2017-10 (July 2017)
Press Freedom Groups Letter to Federal Communications Commission in support of Title II Net Neutrality (2017) Link
In the matter of Exemption to Prohibition on Circumvention of Copyright Protection Systems for Access Control Technologies, Docket No. RM 2014-07, Comments of New Media Rights (Filed February 6, 2015)
In the Matter of Protecting and Promoting the Open Internet, Comments of New Media Rights, GN Docket No. 14-28 (Filed July 15, 2014)
Guide to Intellectual Property & Fiscal Sponsorship Agreements for Scientific, Research, and Archival Projects. (September 3, 2014), available at http://papers.ssrn.com/sol3/papers.cfm?abstract_id=2567848 (with Marko Radisavljevic)
Garcia v Google, NO. 12-57302 (9th Cir 2014) Brief of Amici Curiae Electronic Frontier Foundation, American Civil Liberties Union, Public Knowledge, Center for Democracy and Technology, New Media Rights, American Library Association, Association of College and Research Libraries, and Association of Research Libraries In Support of Defendants-Appellees (Corynne McSherry, Nathan Cardozo, Lee Rowland, Brian Hauss, Michael Weinberg, Teri Karobonik, David Sohn, Jonathan Band)
Remixing Copyright Law: How Copyright Reform Can Empower Remix Creators and Internet Users. (January 1, 2014) available at http://papers.ssrn.com/sol3/papers.cfm?abstract_id=2563355 (with Teri Karobonik)
In the Matter of the Public Comment on Intentional Interruption of Wireless Services, GN Docket No. 12-52, Comments of New Media Rights (Filed April 30, 2012)
Remedies for Small Copyright Claims, Docket Number RM 2011-10, Comments of New Media Rights (Filed January 17, 2012)
The matter of Exemption to Prohibition on Circumvention of Copyright Protection Systems for Access Control Technologies, Docket No. RM. 2011-7, Comments of New Media Rights (Filed February 10, 2012)
In the Matter of Applications of AT&T, Inc. and Deutsche Telekom A For Consent to Assign or Transfer Control of Licenses and Authorizations, WT Docket No. 11-65, Petition to Deny of New Media Rights, Utility Consumers' Action Network, and Privacy Rights Clearinghouse. (Filed May 11, 2011)
Additional publications can be found at http://ssrn.com/author=1346806