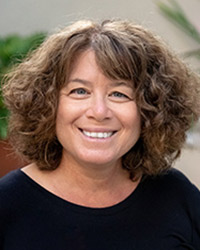 Lisa Ferreira
Dean of Students

Dean of Students
Student Affairs
Career and Professional Development

Biography
Lisa Ferreira joined California Western School of Law in September 2021 as the Dean of Students. Dean Ferreira received her bachelors and master's degrees in counseling. She has over 30 years of experience in legal education in both Academic Affairs and Student Affairs. Prior to joining California Western School of Law, she served as the Assistant Dean for Student Affairs & Title IX Coordinator at Thomas Jefferson School of Law.
Included in her responsibilities at California Western School of Law, she has oversight of the Career & Professional Development Office, as well as Student & Diversity Services. Dean Ferreira is also focused on the student experience, wellness, and professional and personal development.
Dean Ferreira has presented at regional and national conferences on several topics including accommodations, student affairs best practices, and counseling law students. In addition, she has served on the Association of American Law School's Student Services Section from 2012-2020 and Chaired the Committee in 2015-2016. Further, she has served on the National Association of Law School Professionals Inaugural Conference Committee, as well as a member of the Mentorship Committee for two years, with one of those years as Co-Chair.
BS (Human Services)
MSC (Marriage, Family, and Child Therapy)