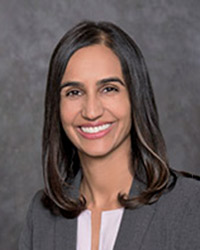 Pooja R. Dadhania
Professor of Law

Biography
Professor Dadhania's scholarship focuses on the impact of the immigration law regime on marginalized noncitizen communities, and how immigration status intersects with other forms of legal and experiential marginalization. More specifically, she is interested in how the historical development of immigration law has been affected by or has itself affected, other areas including criminal history, gender, and perceived political views and activities. Ultimately, she strives to understand the ways immigration laws meet and fall short of their intended outcomes, as well as how they uphold or fail to uphold, the principles of proportionality and equality under the law. Professor Dadhania has published pieces in the California Law Review, Columbia Law Review, and Minnesota Law Review.
Professor Dadhania's scholarship has been inspired by her previous legal experience representing noncitizen survivors of persecution, abuse, and torture. Before joining the faculty at California Western, Professor Dadhania was a Clinical Teaching Fellow and Supervising Attorney at the Center for Applied Legal Studies at Georgetown University Law Center, an asylum clinic. Previously, Professor Dadhania was an Equal Justice Works Fellow at the Legal Aid Foundation of Los Angeles (LAFLA) where she provided direct legal services focusing on immigration and family law. She was also a law clerk on the U.S. Court of Appeals for the Ninth Circuit for the Hon. Milan D. Smith, Jr. and on the U.S. District Court for the Southern District of California for the Hon. Irma E. Gonzalez. Professor Dadhania began her legal career as an antitrust litigator at the law firm of Cleary Gottlieb Steen & Hamilton in Washington, D.C.
Columbia Law School, J.D. (James Kent Scholar; Harlan Fiske Stone Scholar; Columbia Law Review)
Georgetown University Law Center, LL.M. (Advocacy), with distinction
University of Virginia, B.A. (Economics; Political and Social Thought), with high distinction
Civil Procedure I and II
Immigration Law
Asylum and Refugee Law
Clinical Externship Seminar
Visit Professor Dadhania's SSRN Author Page.
State Responsibility for Forced Migration 64

B.C. L. Rev.

745 (2023)
Gender-Based Religious Persecution, 107

Minn. L. Rev.

1563 (2023)
Reimagining Sovereignty to Protect Migrants, 47

Yale J. Int'l Law Onlin

e 71 (2022)
Paper Terrorists: Independence Movements and the Terrorism Bar, 108

Calif. L. Rev

. 1733 (2020)
Language Access and Due Process in Asylum Interviews, 97

Denv. U. L. Rev

. 707 (2020) (invited symposium)
Deporting Undesirable Women, 9

U.C. Irvine L. Rev.

53 (2018)
Note, The Categorical Approach for Crimes Involving Moral Turpitude after Silva-Trevino,
111

Colum. L. Rev. 313

(2011)
Immigration Law Service (2d ed.) (with Shane Dizon)